Updates & Tidbits April 2022
April 6, 2022
Greetings,
I want to give you an update on developments for our Coalition, our region, and nationally.
Greater Northwest Coalition
The FRA has committed to including both the Pioneer and North Coast routes in the Sec. 22214 studies; however, they have yet to make a determination on an official FRA Greater Northwest Working Group or other Regional Planning effort. We're continuing our push for those until the FRA makes a decision one way or another.
With the 180 Day rule-making deadline approaching (May 15th), we'll continue our efforts and collect more letters and resolutions of support up until that time and continue our conversations with the USDOT/FRA. We'll also reach back out to the US Senators who missed the December sign-on letter to see if they'd be willing to write their own letters before the May 15th timeline.
Rail Passengers National Poll: Support for more passenger rail!
The Rail Passengers Association conducted a nation-wide poll showing strong bi-partisan support for passenger rail spending with two-thirds supporting a full national rail plan (we should get on the map!); a recognition to include equitable rail policy and passenger rail in particular as one part of an interconnected, interdependent and holistic transportation network. 66% of respondents said they support adding more routes to the current rail network.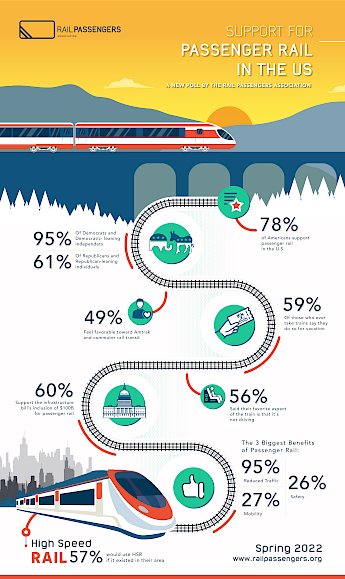 https://www.railpassengers.org/happening-now/news/releases/new-poll-78-of-americans-want-increased-investments-in-passenger-rail-in-the-u.s/
In my personal view, the added benefit of freight (agriculture, economic development, etc.) on shared-use lines should enhance the call for rail investment in our region.
USDOT Notice of Funding (NOFOs)
I'm not really focusing on these things right now (since I'm working more on where our Coalition is currently) but I wanted to be sure to flag these for you and your communities, in case they can be of help.
Multimodal Project Discretionary Grant (MPDG) Opportunity includes Mega Grants, INFRA Grants and Rural Grants; a "one stop shop" to send one application for consideration through all three grant programs. "While the MPDG Opportunity consists of three separate programs, DOT will evaluate common applications for the programs using common merit criteria and considerations to provide a more streamlined and efficient application process for project sponsors."
More information: https://www.transportation.gov/grants/mpdg-announcement
APPLICATION DEADLINE: The application deadline for Multimodal Project Discretionary Grant (MPDG) Opportunity is Monday, May 23, 2022.
Grade-Crossing Elimination Program focuses on improving safety and mobility of people and goods.
More information: https://railroads.dot.gov/elibrary/railroad-crossing-elimination-grant-program-fact-sheet
Note: The IIJA/BIL now includes provisions for Tribal Governments and Local/County Governments as eligible applicants.
USDOT Grants Page: transportation.gov/grants
Corridor Identification and Development Program RFI
With passage of the IIJA/ Bipartisan Infrastructure Law (BIL) the FRA released a Request for Information (RFI) on the program. The Corridor Identification and Development Program "creates a new framework to facilitate the development of new, enhanced, and restored intercity passenger rail corridors throughout the country."
Many entities nationally, and a number regionally, submitted comments on the program. While the FRA has yet to make any formal statements on the direction they'll take, a few recurring comments stood out to me and would likely benefit the Greater Northwest region if the FRA decides to incorporate them.
Notably:
ND, SD, MT, WY, & ID DOTs Joint Statement :"We suggest, however, that to advance a truly national program, FRA must adopt a program structure that is welcoming to new participants and regions, particularly as this new program is principally one of developing plans that could be funded by other programs."
BNSF : "BNSF has a history of collaborating with various passenger agencies, state and local partners, as well as Amtrak, in support of mutually successful outcomes for passenger and freight customers."
American Shortline and Regional Railroad Association (ASLRRA)
American Public Transportation Association
The US Department of Defense (DoD): "In general, a travel corridor that is served by an interstate highway would also likely be well served with a rail route. In most cases, infrastructure improvements that enhance Amtrak should also be viewed as opportunities to improve rail freight movement."
Greater Northwest Passenger Rail Summit, 2022
Our Coalition is planning a passenger rail summit in Billings, Montana August 22-23, 2022 hosted by the Big Sky Passenger Rail Authority. We'll be sending out official invites in the near future (attached is the PDF announcement).
Who should attend?: Everyone interested in passenger rail, economic development, quality of life in the Greater NW Region.
Rather than just being an "observe, show, and tell" conference, we want this to be an interactive networking opportunity; a catalyst for building, enhancing, growing, and promoting passenger rail and our region more broadly. "People live here!" The goal is to make this a recurring yearly conference that will rotate around the region year-by-year.
We're still working through the schedule of events so stay tuned!
All Aboard Northwest
As we look forward to continuing the momentum in the coming months and years, we realized we needed a full regional advocacy organization (to work with official government entities such as a working group or regional compact) to realize results for our region. The existing, informal, Greater Northwest Passenger Rail Coalition that has been advocating for a formalized FRA working group needs dedicated resources for these efforts. Key regional partners and I have officially created All Aboard Northwest (AANW) to fill this need. AANW will promote efforts by state, local, and national groups for passenger rail, transportation, and more!
I'll be in touch as we find out more in the coming weeks and months. Thank you all for your interests and let me know if you have any questions.
Thanks!
Dan
Dan Bilka
Rail Passengers Association Board Member - Former South Dakota Representative
ColoRail Board Member
Greater Northwest Passenger Rail Coalition Coordinator
Co-Founder & President, All Aboard Northwest