AANW Hotline, May 2023
AANW's Message
The unprecedented $66 billion for rail in the Bipartisan Infrastructure Law is available to everyone who applies. Local communities must press state governments and DOTs to take advantage of this unique opportunity. Many states are already doing so, through applications to the Corridor Identification and Development program and other grant opportunities. Any state that doesn't apply will be left out for years to come. This is why we exist: to assist states and advocacy groups by having a "seat at the table". Don't forget, #PeopleLiveHere!
How AANW Can Help
AANW advocates for the needs of rail passengers in the Greater Northwest (GNW) region of the United States. We build relationships with infrastructure and transportation interests across state lines to promote rail investments that improve economic, environmental, and equity outcomes for our region's inhabitants. In 2021, All Aboard Northwest was created as the Greater Northwest Passenger Rail Working Group in response to a request from eight US Senators. AANW was registered as a 501(c)(4) nonprofit advocacy organization in 2022.
All Aboard Northwest engages, educates and energizes the public, elected officials, business and local leaders, through outreach, Train Treks, presentations for legislators and communities, advocacy, soliciting resolutions and letters of support, publicity, coalition building and event planning.
AANW has been successful in joining with other transportation, environmental, health care, labor and community organizations to:
Successfully pass rail legislation in Oregon and Washington
Conduct 7 Train Treks since 2021
Coordinate 3 Passenger Rail Summits since 2021
Conduct outreach to educate local, state and federal officials about the importance of passenger rail in 93 organizations since the beginning of 2023
Develop coalitions with 43 organizations to endorse support for passenger rail
Generate 89 press and media mentions favoring expansion of passenger rail
Recruit local organizations to generate 71 resolutions and letters of support
Represent the Greater Northwest region in FRA's Amtrak Long-Distance Service Study
Share news and commentary on the web, by email and on social media
This summer, we will be focusing on the 2nd Annual Greater Northwest Passenger Rail Summit and two Train Treks.
Greater Northwest Passenger Rail Summit
The 2nd Annual Greater Northwest Passenger Rail Summit will take place in Boise, ID on July 19th and 20th, 2023. We're looking forward to bringing together passenger rail experts and advocates to continue working toward restoring a true national network for passenger rail that includes service to the largely underserved Greater Northwest.
Summit registration is available at https://gnwprs.org/ Donations and sponsorships welcome through All Aboard Northwest at https://allaboardnw.org/support/
Train Treks
Train Treks are a series of outreach and engagement meetings held in local communities throughout Colorado, Iowa, Idaho, Minnesota, Montana, Nebraska, North Dakota, Oregon, South Dakota, Utah, Washington, Wisconsin, and Wyoming. They are an efficient and effective way to meet local stakeholders, gain valuable information, make the proper connections, and build the coalitions needed to realize visionary, large-scale, infrastructure projects.
AANW's July 2023 Train Trek again focuses along the route of the former North Coast Hiawatha and Pioneer, where feasibility studies of potential restoration will shortly be conducted. A Collegiate Train Trek is planned for Washington state in September. Information and registration at https://traintrek.org.
Building Multi-State Coalitions
AAWA has convened meetings to brainstorm expanded passenger rail service with elected officials, state DOT representatives and economic development organizations throughout the region. We also work with existing organizations that advocate for rail in Washington, Oregon, Idaho, Iowa, Montana, Minnesota, Nebraska, Wisconsin, Utah, nationally and in Canada. Developing working groups in these locations will be the first step toward creating Interstate Rail Compacts that can manage and receive federal funds for multi-state rail projects.
AANW Connections So Far This Year
We have been quietly generating momentum among local, state and national elected officials, plus economic development organizations, environmental activists, and those pressing for equity in underserved rural and tribal communities.
Here are some of the new and updated connections we have made with people and organizations since January.
All Aboard Washington
Amtrak Cascades Service Development Plan
Association of Oregon Rail and Transit Advocates
Big Sky Passenger Rail Authority
Black Hawk County MPO
Black Hawk RR Corridor
Black Hills Defense and Industry Symposium
Boise Chamber Rail Forum
Burlington Northern Santa Fe Railway
City of Cheney (WA)
City of Spokane (WA)
City of Cheyenne (WY)
Climate Rail Alliance
ColoRail
Columbia Basin Badger Club (WA)
Crawford (NE)
Cross-Border Railroad Dialogues, Transport Action British Columbia
Dakota Scout - South Dakota
Disability Mobility Initiative
Earth Day Fair Yakima
Elevate Rapid City elevaterapidcity.com
FRA Amtrak Daily Long-Distance Service Study - Midwest Regional Working Group
FRA Amtrak Daily Long-Distance Service Study - Northwest Region Working Group
Front Range Passenger Rail
Greater Denver Transit
Greater Des Moines Partnership dsmpartnership.com
Greater Northwest Passenger Rail Coalition
Greater Northwest Passenger Rail Coalition - Minnesota
Hells Canyon Journal (Halfway, OR)
High Speed Rail Alliance
Iowa Passenger Rail - IIJA/BIL Development waterloo-ia.org
Iowa Passenger Rail Advisory Committee iowadot.us
Iowa Rail Chats
Just Crossing Alliance
Kansas Northern Flyer Alliance
King County (WA) Councilmember Claudia Balducci
Kittitas County (WA) Chamber of Commerce
LADC - Madison, SD
Mason City (IA)
Mid-Columbia Council of Governments (MCCOG) (OR)
MT Passenger Rail Advisory Groups
North Dakota DOT
North Dakota & South Dakota Rail Working Group
North Sound Transportation Alliance (WA)
Northwest Progressive Institute
Ogallala (NE)
Omaha- CB - MAPA mapacog.org
OR Rep. Nancy Nathanson
OR Sen. Chris Gorsek
Oregon Legislature Joint Transportation Committee
Pacific Northwest Economic Region
Panhandle for Passenger Rail (OR)
Rail Passengers Association
Rail Passengers Association NW Division
Railway Age Young Professionals
Rapid City Economic Summit
Real Change News
Sidney (NE)
Sierra Clubs of Oregon and Washington
Sioux Falls Area Chamber of Commerce siouxfalls.com
Sioux Falls Rail - Christensen Development
SMART-TD
South Dakota DOT
South Dakota State Railroad Board
Southeastern Passenger Rail Initiative
Southern Rail Commission
Spokane Airports Authority
Spokane Regional Transportation Council (SRTC)
Startup Sioux Falls
SW Minnesota EDC
Texas Rail Advocates
Transport Action Canada
Transportation for America
US Rep. Dusty Johnson (SD)
US Rep. Rick Larsen (WA)
US Sen. Cynthia Lummis (WY)
US Sen. Deb Fischer (NE)
US Sen. James Risch (ID)
US Sen. John Hoeven (ND)
US Sen. John Thune (SD)
US Sen. Jon Tester (MT)
US Sen. Kevin Cramer (ND)
US Sen. Mike Crapo (ID)
US Sen. Mike Rounds (SD)
US Sen. Steve Daines (MT)
US Sen. Tina Smith (MN)
US Senate Commerce Committee - Rail Hearing
USDOT
USDOT Regional Infrastructure Accelerators
WA Rep. Andrew Barkis
WA Rep. Bryan Sandlin
WA Rep. Mari Leavitt
WA Sen. Jeff Wilson
WA Sen. Matt Boehnke
WA Sen. Patty Kuderer
Washington DOT
Washington Legislative Rail Caucus
Washington Legislative Transportation Committee
Washington Physicians for Social Responsibility
Weiser (ID)
West Central Wisconsin Rail Coalition
White House STU
Wyoming DOT
Wyoming Train Story (Western Confluence)
Yakama Nation
Yakima Air Terminal
Yakima Herald-Republic
Yakima Valley Conference of Governments
AANW's Dan Bilka Quoted in Utah's KSL and Deseret News
"The possible commuter rail study comes as passenger rail advocates pushed for Utah to consider adding more rail service. Dan Bilka, the co-founder of the nonprofit rail advocacy organization All Aboard Northwest, told KSL.com last year that he believes trains could help improve the country's transportation infrastructure, providing more options than what's on the road or in the air." https://www.deseret.com/utah/2023/5/21/23732416/utah-seeks-rail-service-salt-lake-city-boise-las-vegas
See more AANW press coverage at https://allaboardnw.org/blog/press-coverage/
AANW and Coalition Releases Updated Greater Northwest Rail Policy Recommendations
We are pleased to be part of a cross-border coalition that has endorsed an updated statement of policy recommendations focusing on the importance of rail in meeting the Greater Northwest's goals of improved mobility, economic growth, environmental sustainability and equity.
AANW Participates in FRA's Amtrak Long-Distance Service Study
AANW participated in the first round of regional working group meetings to provide the Federal Railroad Administration with feedback on the Amtrak Daily Long-Distance Service Study. The working groups are bringing together state DOTs, Amtrak, Class I Railroads, metropolitan planning organizations, regional passenger rail authorities, local officials, federally recognized tribes, and the broader stakeholder community to evaluate how to better connect people with long-distance rail services. We discussed options for evaluating potential routes and how Amtrak and communities can work together to improve intercity passenger rail service.
Oregon Legislature Testimony
All Aboard Northwest and other rail advocacy organizations joined in enthusiastic support for expansion of passenger rail in the Oregon legislature February 28. Supporters included legislators from throughout the state, the 15 members of the Eastern Oregon Counties Association, the city of Portland, Portland Metro, Oregon American Planning Association, Union Pacific, short line railroads, Oregon Rail Users League, and AORTA. As a result of the broad support, several rail-related bills have passed the Legislature and signed into law.
Iowa Passenger Rail Advisory Committee and Iowa Visits
AANW attended the Iowa Passenger Rail Advisory Committee Meeting on May 15 and spent the remainder of the week visiting communities around the state, even venturing over into Illinois. We're excited to see the potential of passenger rail service through the Hawkeye State and underscore the importance of Iowa for passenger rail. Iowa is a key state in both the Midwest and the Greater Northwest regions and we support their efforts.
With Iowa and neighboring Nebraska considering rejoining the Midwest Interstate Passenger Rail Compact, we are supporting the efforts of both states to get "on-board" with MIPRC and elevate their voices nationally!
AANW Volunteers and Supporters Needed
Our Greater Northwest territory is approximately 1,121,319 square miles. We are the only rail advocacy organization that represents the entire region. It takes a lot of time, money, and resources to represent the entire region, in competition with better-funded areas like the Northeast Corridor.
In order to continue our momentum, AANW is looking for active volunteers. If you have a few hours a week, or a special skill set, that can help us further our goals, reach out to Dan or Charlie to find out how you can help.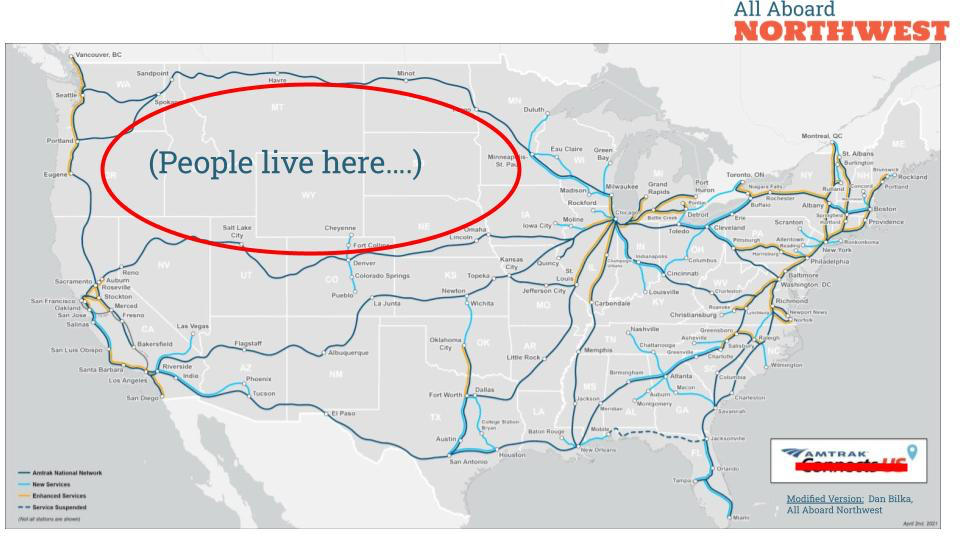 Donate to AANW!
All Aboard Northwest (AANW) works to build a transportation network that will allow anyone to get from their homes to where they need to go – work, school, medical care, family and friends – even if they don't use a car. Our efforts generate economic, environmental and equity benefits by creating seamless mobility for those with disabilities; those who do not drive; underserved low-income, tribal, and rural communities; and locations where transportation alternatives are limited.
We hope that you will consider sponsoring this year's Greater Northwest Passenger Rail Summit and associated Train Treks. Donations are welcome at https://allaboardnw.org/support/
Thank You for Your Continued Support and Engagement!