The Train Trek Project
About the Train Trek: Help Revive Passenger Rail In Your Community
The Project
Train Treks are a series of outreach and engagement meetings held in local communities. They are an efficient and effective way to meet local stakeholders, gain valuable information, make the proper connections, and build the coalitions needed to realize visionary, large-scale, infrastructure projects.
Train Treks can be focused along a specific corridor (for a specific route proposal), a specific audience (elderly, college students, etc.), a specific type of development (Transit Oriented Development, local industrial economic development), or scope of service and benefit (rural communities with few other options).
All Aboard Northwest (AANW) is requesting funding and sponsorship of Train Treks in order to further the call for a robust multi-modal transportation network. We have a list of valuable Train Trek proposals that will further the goals of seamless transportation in the Greater Northwest Region; robust infrastructure investment. A sponsor can fund the Train Treks, or one or more specific Train Trek that aligns with their specific goals.
Need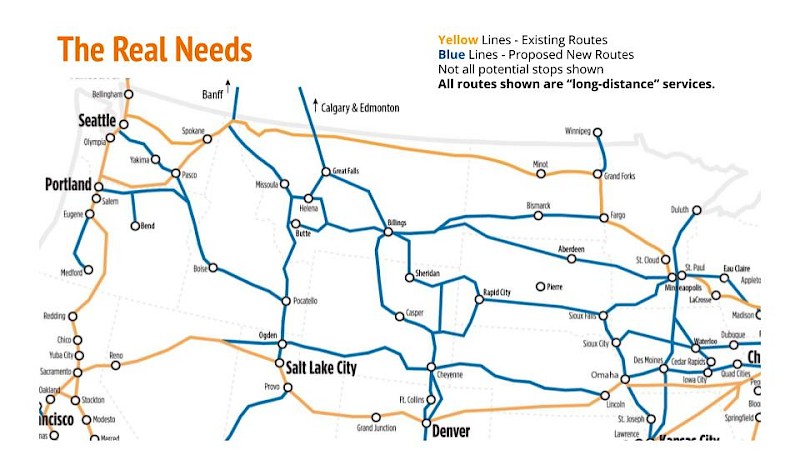 Personal Connections
Even in the 21st Century, showing up matters. We gain far more insights and local respect by meeting with people in person, although we offer electronic connections to those who cannot attend otherwise.
Regional Focus
We need to collaborate over state lines if we hope to succeed where previous efforts have fallen short. Advocacy efforts focused on the state level can be isolated, and too small-scale to respond effectively to large, systemic problems. National advocacy is important, but much decision-making is made by state and local governments; national organizations do not have the resources to be represented in each state capitol. Thus, the region is the correct scale to organize and address these issues; it is especially well-suited is our Greater Northwest region.
Purposes
The purposes of Train Treks are to:
Improve awareness of rail issues and opportunities in the Greater Northwest.
Discover opportunities for better collaboration with stakeholders and partners.
Increase AANW's capacity to educate the public and elected officials to serve its mission and vision, in line with its charter as a nonprofit organization.
Promote multi-modal transportation options, focused on a comprehensive, long-distance passenger rail network.
Goals
Educate the public about a route, issue, or scope of focus.
Receive support (probably predominantly vocal - non financial).
Fulfill an "action call" (support for a specific proposal, vision, project, legislation)
Research and information about a local, that we can convey to the right persons/interest groups/ elected leaders.
Implement long-term economically-viable, user-friendly, non-automobile transportation services through the region on a core passenger rail system: Seamless transportation.
History
Next Steps
Follow-Up with Stakeholders and Attendees
Establish Regional Legislative Session Goals
Develop a Communications/Messaging Strategy
Develop specific Volunteer Positions
Collaborate with communities that have expressed interest in further cooperation and joint activities
Financial support/sponsorship to pay basic administrative costs and fund travel needs (hotels, venues, food, etc) along the Trek. We estimate an approximate budget need of $20,000 for a regional Train Trek.
2023 Train Trek

The All Aboard Northwest 2023 Train Trek received warm support (up to 105 degrees!) from communities in Wyoming, Idaho and eastern Oregon -- Rawlins, Weiser, Ontario, Baker City, and Hood River -- July 13-23.