The Train Trek Project
Help Make the 2022 Train Trek Happen!
$20,000
$3,525 Raised
17% Progress
8/31/22 Goal Date
About the Train Trek: Help Revive Passenger Rail In Your Community
The Project
Train Treks are a series of outreach and engagement meetings held in local communities. They are an efficient and effective way to meet local stakeholders, gain valuable information, make the proper connections, and build the coalitions needed to realize visionary, large-scale, infrastructure projects.
Train Treks can be focused along a specific corridor (for a specific route proposal), a specific audience (elderly, college students, etc.), a specific type of development (Transit Oriented Development, local industrial economic development), or scope of service and benefit (rural communities with few other options).
All Aboard Northwest (AANW) is requesting funding and sponsorship of Train Treks in order to further the call for a robust multi-modal transportation network. We have a list of valuable Train Trek proposals that will further the goals of seamless transportation in the Greater Northwest Region; robust infrastructure investment. A sponsor can fund the Train Treks, or one or more specific Train Trek that aligns with their specific goals.
Need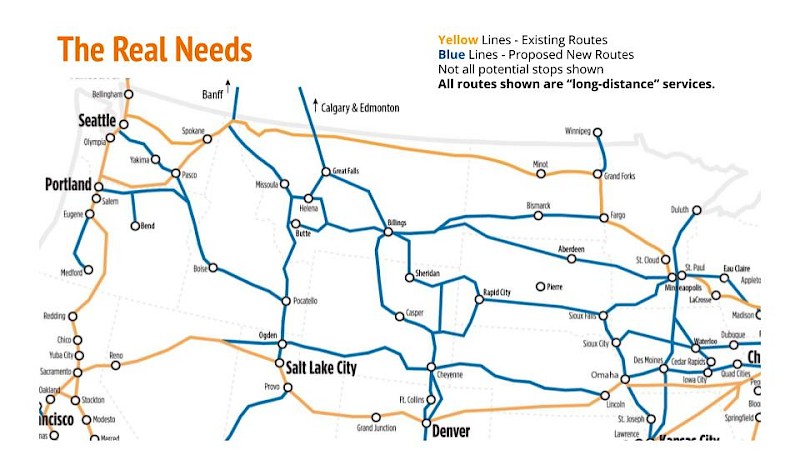 Personal Connections
Even in the 21st Century, showing up matters. We gain far more insights and local respect by meeting with people in person, although we offer electronic connections to those who cannot attend otherwise.
Regional Focus
We need to collaborate over state lines if we hope to succeed where previous efforts have fallen short. Advocacy efforts focused on the state level can be isolated, and too small-scale to respond effectively to large, systemic problems. National advocacy is important, but much decision-making is made by state and local governments; national organizations do not have the resources to be represented in each state capitol. Thus, the region is the correct scale to organize and address these issues; it is especially well-suited is our Greater Northwest region.
Purposes
The purposes of Train Treks are to:
Improve awareness of rail issues and opportunities in the Greater Northwest.
Discover opportunities for better collaboration with stakeholders and partners.
Increase AANW's capacity to educate the public and elected officials to serve its mission and vision, in line with its charter as a nonprofit organization.
Promote multi-modal transportation options, focused on a comprehensive, long-distance passenger rail network.
Goals
Educate the public about a route, issue, or scope of focus.
Receive support (probably predominantly vocal - non financial).
Fulfill an "action call" (support for a specific proposal, vision, project, legislation)
Research and information about a local, that we can convey to the right persons/interest groups/ elected leaders.
Implement long-term economically-viable, user-friendly, non-automobile transportation services through the region on a core passenger rail system: Seamless transportation.
History
Despite the uncertainties caused by the pandemic, the first set of Train Treks covered many areas of Washington, Idaho, Colorado, Wyoming, South Dakota and Montana in the summer of 2021.
These meetings were conducted in-person and, where possible, shared electronically via Zoom.
Regional Events
As the centerpiece of the 2021 Train Treks, Dan Bilka, Patrick Carnahan and Charlie Hamilton participated in the 30th Pacific Northwest Economic Region (PNWER) Summit in Big Sky, Montana.
Charlie moderated PNWER's first-ever Rail Forum; Patrick gave two presentations during the Forum alongside colleagues Dan Bilka, Elaine Clegg, David Strohmaier, Anna Zivarts, and Abe Zumwalt; and AAWA Government Affairs Director Luis Moscoso led a closing discussion with state representative Andrew Barkis of Washington and state senator Chris Gorsek of Oregon.
2021 East-West Train Trek
From August 12 - 21, 2021, Patrick and Charlie led a series of meetings across Washington and Idaho, in the communities of Edmonds, Everett, Leavenworth, Wenatchee, Yakima, Toppenish, Richland, Walla Walla, Spokane, Cheney, Ritzville, and Ellensburg, Washington; and Lewiston, Idaho.
Funding for this series was provided by All Aboard Washington, with additional support provided by AAWA donors.
2021 Colorado-Wyoming-Montana Train Trek
Image: Example of a "Train Trek" route taken by founder Dan Bilka in August, 2021.
From August 12 - 21, 2021, Dan Bilka conducted a number of meetings across Wyoming, in the communities of Cheyenne, Wheatland, Douglas, Thermopolis, Greybull, Evanston, Rawlins, and Laramie, with stop-overs and information requests with Worland, Wyoming.
This series was funded by Dan Bilka as an individual. No additional funding was received.
2021 South Dakota Train Trek
From June 28 - July 8, 2021, Dan Bilka conducted volunteer community outreach across South Dakota, in the communities of Salem, Mitchell, Plankinton, Chamberlain, Kennebec, Presho, Murdo, Kadoka, and Hot Springs.
This series was funded by Dan Bilka as an individual. No additional funding was received.
2021 Wyoming - South Dakota Train Trek
From August 26 - 30, 2021, Dan Bilka conducted in-person outreach across Wyoming and South Dakota, in the communities of Sheridan, Gillette, Moorcroft, Sundance and Lusk, Wyoming and Spearfish and Sturgis, South Dakota.
This series was funded by Dan Bilka as an individual. No additional funding was received.
Successes
Attendance and Participation
The Train Trek meetings were successful in attracting attendees (both via Zoom and in-person) who were actively or formerly involved in rail advocacy, who were unfamiliar with our work, or who wished to join a coalition in support of rail.
Improved Engagement with Local and Regional Coalition Partners
We worked together with partners like the Big Sky Passenger Rail Authority, the Rail Passengers Association, and Disability Rights Washington to spread the word about the opportunities that exist for advancing our cause.
Shared Work, Mission, and Vision
We succeeded in sharing our work, mission, and vision with local leaders in the communities we visited. We have significantly increased our visibility and contacts in central and eastern Washington, and have made several important connections with officials at the 2021 PNWER Summit. We have already received invitations to continue spreading our message in other locations during the months to come.
Identified New Potential Collaborators and Allies
We have a number of new local, state, regional, and international contacts who are interested in working with us to improve rail service across the Northwest.
Clarified Potential Legislative Priorities
Through discussions with state and local leaders during the Train Trek events, we have clarified how AANW can advance its mission, vision, and objectives during the next legislative sessions.
Improved Visibility
The Train Trek and PNWER events have significantly raised AANW's visibility with elected leaders, local community leaders, the press and the public. While we would like to have had more participation in some of these events, on the whole, they successfully furthered AANW's goals.
Upcoming Improvements
Fundraising is Key
The 2021 Train Treks were conducted to refine the Train Trek concept, with very little funding. AANW needs to aggressively and significantly expand its fundraising, sponsorship and grant writing efforts to maintain an acceptable level of financial stability and continue its current level of work.
Event Coordination and Logistics
It is imperative to have local co-sponsors, such as service clubs, economic development organizations, business groups, student organizations, local governments, or local activist groups focusing on the economy, the environment or equity.
Local coordinators from co-sponsors can arrange venues, publicity, and logistics. Advance planning is needed to ensure the availability of optimal, affordable venues.
Press Visibility
Co-sponsors who can represent AANW to the press in relevant geographic areas, and earlier timelines for event planning, is needed.
Challenges
Scheduling
We were able to put together an itinerary and budget for the 2021 Train Trek quickly, but we needed more time to find and contact local coordinators, venues, officials and press. The short lead times, and the uncertainties surrounding the current health situation, had a significant impact on the participation we were able to receive in some locations. For future such events, we will need considerably more planning time.
Finances
We were able to recoup approximately 80% of the AAWA Train Trek expenses (not counting Patrick and Charlie's time). However, such events as the Train Trek should not be undertaken without advance sponsorships and/or corporate donations covering a significant portion of the budgeted costs.
Volunteers
We appreciate the help we received in planning and executing the Trek and PNWER events, especially from the members of the Event Planning Committee. In the future, a larger group of volunteers will be helpful, both before and during events.
Next Steps
Follow-Up with Stakeholders and Attendees
Establish Regional Legislative Session Goals
Develop a Communications/Messaging Strategy
Develop specific Volunteer Positions
Collaborate with communities that have expressed interest in further cooperation and joint activities
Financial support/sponsorship to pay basic administrative costs and fund travel needs (hotels, venues, food, etc) along the Trek. We estimate an approximate budget need of $20,000 for a regional Train Trek.